I realize that I never discussed an amazing aspect of A Moveable Feast: the flaming chandelier.
While we were putting together the Feast and getting it ready for Burning Man, we knew that we had to involve some fire art. Â I was slammed with rebuilding the entire rear-end drivetrain of the Feast as we had completely over-torqued the transmission. Â However, one of my volunteers, Bill, was very enthusiastic about a fire chandelier, and heavily encouraged me to get it done as well. Â He went so far as to invite a copper artist down from Oakland to fly down and help.
I don't like to stand in the way of enthusiasm, so I ordered some copper spheres, some copper flower parts, and started testing some flaming nozzle ideas. Â Wind resistance is very important for Burning Man and the reliability of any fire art, frankly. Â I got a single nozzle roughly working right before Ken Griswa showed up to put it all together. Â Bill, Ken, and I discussed our vision for the chandelier and immediately jived. Â I set Ken up with the tools I had and he quickly got to work. Â What an amazing artist! Â  Â After a day he had put this shiny copper masterpiece together: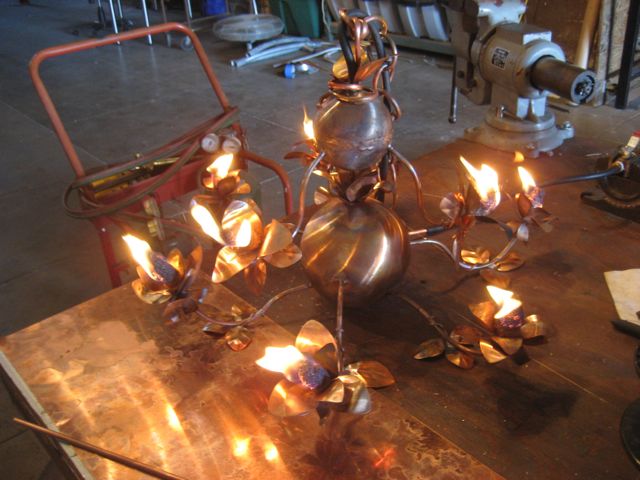 We used bronze wool to keep the flame lit during a gust of wind. Â The flame goes dim and jumps to the "sheltered" side of the puff of wool, but it quickly relights when the wind subsides. Â Even during the harsh dust storms of Burning Man it held up great! Â The Fire Chandelier did a fantastic job of setting the mood for a decadent meal on the playa.
 I realized that the fire chandelier would work great for setting the mood during an outdoor party as well.  I built a stand that utilized the "shepherd hook" of the Feast and would hold the chandelier for the guests of a party.  I could see utilizing this in the backyard just as easily.
In fact, if you're interested in a fire chandelier for your backyard or any other outdoor venue, please let me know. Â Ken and I would love to put some more together! Â It can run on propane or natural gas with no problems.